ACCS ARM Design Challenge 2017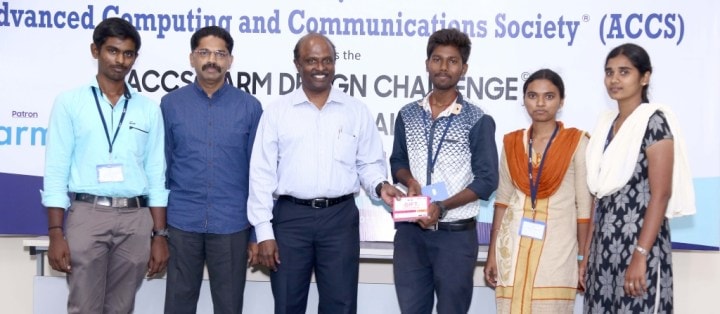 Staff Writer
---
ACCS – ARM Design Challenge 2017 demonstrates what students can accomplish 'autonomously' when industry mentors them.
Among the pan-India initiatives championed by Advanced Computing and Communications Society (ACCS) as a means to realize its mission of enhancing learning and engineering insights amongst engineering students is the annual ACCS-Arm Design Challenge (ADC).
With the theme of 'Autonomous Vehicle', ADC 2017 was sponsored by the Arm University Program and made possible by the support from TVS Motors with its electric vehicle platform and by NXP Semiconductors with its Arm FRDM-K64F kit. ADC 2017 was also the first edition of TVS Young Inventor's program.
From among the teams spanning academic institutions pan-India, giving weightage to the technical merit, engineering insights, domain innovation, product engineering, 16 teams were shortlisted for the final round in the design challenge. All the shortlisted teams were provided an electric vehicle (EV) by TVS Motors and an Arm Cortex M4 based kit from NXP Semiconductors. Teams were to 'transmogrify' the given EV into an Autonomous Vehicle using the NXP controller. Teams could add to the given EV what they deemed essential to realise their concept.
ACCS mentored and reviewed the teams' progress from the day one.
According to S. Uma Mahesh, Secretary, ACCS "Participants found the challenge very exciting, enlightening, being the very first time their real engineering skills were put to practical test. They liked the fact that they were given good amount of time and unparalleled support".
After two mid-term reviews, nurtured by such mentoring, 16 teams were selected for the finals. These teams presented their work and demonstrated their autonomous vehicle. They were measured against different performance yardsticks, by a jury comprised of domain leaders from industry and academia.
"There were two juries – of 3 members each. The teams, in Phase 1, had to demonstrate the general suitability of the vehicle for the challenge, the basic operation as an autonomous vehicle. They had to show the normal smooth operation on the track – start, accelerate, slow down and stop. Their performance was evaluated and top teams were selected for the phase 2 – final round", he added.
In phase 2, the teams had to demonstrate their vehicle's performance against specific parameters: Time taken to cover a given distance, ability to maneuver the vehicle over obstacles and take a turn. The results from the initial presentation, Phase 1 and Phase 2 trails were collated, normalized and the final winners were declared, said Uma Mahesh.
Sharing details about next year's challenge, Uma Mahesh said, "The next year's ACCS-ARM Design Challenge would be about teams building solutions for real life challenges centered around ARM's platforms. The domains would likely to comprise of – Medical, Automotive, Energy, Automation etc.
Dr. S. Jabez Dhinagar, VP – Advanced Engineering, TVS Motors delivered the keynote and distributed the prizes.
The ADC2017 on Autonomous Vehicle's TVS Young Inventor awardees were:
Dr. Jabez Dhinagar gives away the First Prize of Rs. One Lakh and Medallions to Team Members –
C. Barath, K. Jeeveth, P. Priyanka and J. Jayani, Dr. Mahalingam College of Enginnering and Technology, Pollachi, Tamilnadu, mentored by Prof. Muthubharathi.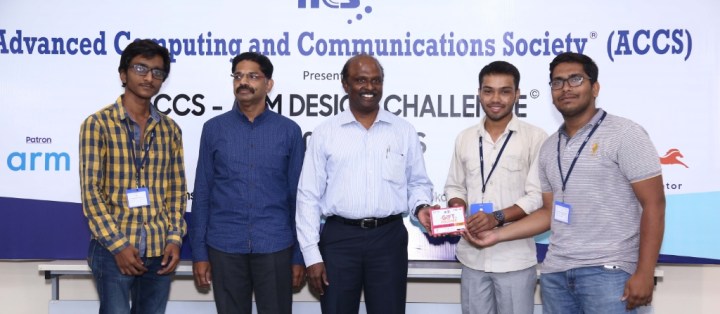 Dr. Jabez Dhinagar awards the Second Prize of Rs. Sixty Thousand and Medallions to Team Members – Varad Manglekar, Krishna Chandak and Bhavesh Itankar,
Sri Ramdeobaba College of Engineering and Management, Nagpur, mentored by Prof. Sharmik Adamane.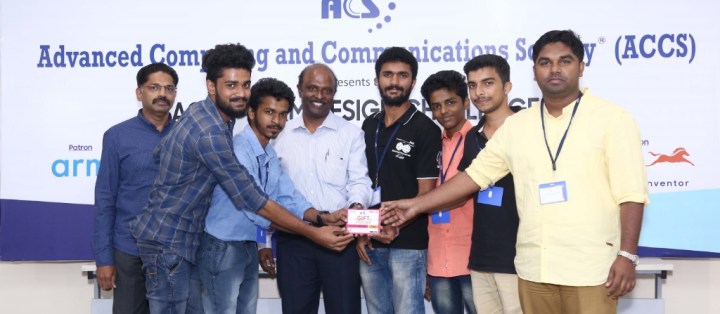 Third Prize of Rs. Forty Thousand and Medallions to Team Members – Naveen Anil, Ananthu Anil,
Haseeb KM and Jishnu P Saju, Muthoot Institute of Technology & Science, Puthencruz, Kerala, mentored by
Prof. MM Anas.
In addition, Two awards of Rs Twentyfive Thousand and Medallions each for outstanding individual performances were awarded to Koushik R Varma, SA College of Engineering and Cheenkesh Arora, Sri Ramdeobaba College of Engineering.
The Advanced Computing and Communications Society, the Arm University Program and TVS Motors took great pleasure in congratulating the winners and commended the mentors and their institutions for their leadership.