EDITORIAL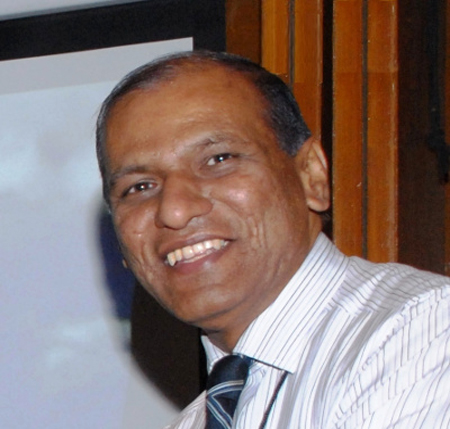 Dr. N. Rama Murthy, Addl. Director (Retd.), CAIR (DRDO)
---
In this issue, in a departure from our usual technical contents, we carry a tribute paid by Dr. Hemant Shukla, a famous radio astronomer settled in USA, to another internationally recognized radio astronomer from India Dr. Govind Swarup. In this article titled "The Serendipity of Meeting Dr. Swarup" by Dr. Hemant Shukla, through a series of anecdotes, the author narrates how he came in contact with Dr. Govind Swarup and how his association continued with him until the sad demise of Dr. Govind Swarup. The author recapitulates the moments during his interview as a candidate for admission at NCRA (National Centre for Radio Astronomy) when through a series of questions Dr. Govind Swarup enlightened the author by enlarging the author's bookish knowledge (at that time) to real world knowledge. The author regards Dr. Govind Swarup, a world renowned scientist, as one who is an electrical engineer, a mechanical engineer, a leader, a mentor, a teacher, a student ever willing to learn and above all a great human being with such desirable qualities as humility and respect for other human beings. A fortunate stroke of serendipity led the author's mother to establish lost contact with Ms. Bina Swarup, her classmate and wife of Dr. Govind Swarup. The author expresses his regards for this great scientist and a marvelous human and laments for not being able to attend ninetieth birthday of his 'Guruji' whom he held in high esteem. The depth of author's love and respect for his Guruji is well summed up in the author's statement at the end – "I would die a happy man if I were a fraction of what he was". The editor is reminded of Ekalavya's dedication to his Guru Dronacharya in Hindu mythology Mahabharatha. Both 'Guru' (Dr. Swarup) and his 'Shishya' (the author) are fortunate to have each other in their respective roles.
In the feature article titled "When India Connected to the Global Cyber Revolution" authored by ACC Journal staff writer, the author takes our readers along on the 25 years of historical journey undertaken by India in establishing a countrywide network starting from the creation of Educational Research Network (ERNET). It also records how potential obstacles in this journey were overcome with the cooperation of various governmental agencies and UNDP, as well as top academic institutions in India. One can appreciate the quantum of leap made during this revolution if one were to note that in economical and technical terms what was costing Rs. 25,000 for data transmission at 9600 bits per second for 250 hr duration is available at a fraction of the cost with data rate being as high as 1 Gigabit per second.
The next article titled "Life Deals a Set of Cards and You Have to Decide How to Play" is closely related with the previous one mentioned with the narrative on the cyber revolution in India built through the tireless efforts of Dr. Srinivasan Ramani who was one among those closely involved and significantly contributed in bringing out cyber revolution. He is the only Indian to be inducted into the Hall of Fame of the Internet Society, a global organisation. Dr. Srinivasan Ramani in his exclusive interview for ACC with Mr. Prashanth Hebbar, humbly states that no revolution can be attributed to the efforts of a single individual, be it in the area of health, agriculture, dairy and of course in establishment of cyber infrastructure.
In the continuing series of articles titled "Experiential Learning of Networking Technologies", the author dwells on IP routing, an important requirement in building a computer network.
In closing this editorial, we leave with a sad feeling following untimely death of Dr. Joy A. Thomas, who was a well known expert in the area of Information Theory. Dr. Arogyaswami Paulraj, Professor Emeritus at Stanford University, who has been credited with the invention of wireless communication systems, pays tribute to Dr. Joy A. Thomas with whom he was well acquainted all through the latter's illustrious professional journey.